The national dog of Finland, Finnish Spitz is a model for success in terms of execution of a breed-specific breeding strategy. Known as Suomenpystykorva in Finland, the Finnish Spitz is one of the healthiest dog breeds, and the Finns want to keep it as such for future generations. The dogs can be expected to live to > 11 to 15 years of age. The Finnish breed association estimates that the worldwide living population of the Finnish Spitz is somewhere in the range of 13,000 – 15,000 dogs. The breed is relatively rare outside of Finland and neighboring Scandinavian countries.
Goal-oriented breeding of the Finnish Spitz, started officially in 1892, when the first breed standard of a "Finnish barking bird dog" was written. The breeding goal was to develop a skillful dog, who barks at birds perched in trees, and who at the same time is also a beautiful yard dog.
A Finnish Spitz dog uses its voice to indicate the location of game. Today the dogs are used to hunt forest game birds, but also to some extent serve as an elk-hunting dog as well as to hunt small game and retrieve birds shot into the water.
The most important breeding goals along with good health are to retain the breed's current bird-barking characteristics without forgetting its diverse potential as a versatile hunting dog. The Finnish Spitz is a designated hunting dog, so its mental make-up and other properties must be up to this task. Today behaviour of the Finnish Spitz dogs corresponds quite well to the breed standard. Finnish Spitz can nowadays be an excellent pet for the whole family.
Key Health Conditions - The Basics
Finnish Spitz is a relatively healthy dog breed. Key inherited health conditions include patella luxation, missing teeth, eye diseases (cataracts and PHTVL/PHPV) and epilepsy. The breed has also had problems with reproduction.
Epilepsy has been the focus of significant attention in this breed and the effort has yielded significant results.
(See more under the Health and Breeding section.)
Finnish Spitz - Breed Specific Breeding Strategies
Due to the concentration of Finnish Spitz primarily in Finland and Scandinavia we will focus on presentation of health and breeding strategies utilized in that region of the world. There is longstanding cooperation and sharing of resources and health information for breeds between Kennel and Breed Clubs that are members of the Nordic Kennel Union. Health screening tests as well as other important breed management considerations are outlined in the Finnish JTO and PEVISA and the Swedish and Norwegian RAS documents.
What are the RAS, JTO and PEVISA?
A RAS or JTO is a breed-specific breeding strategy based on evidence and information gathered from a range of sources. Hence, the breeding plan should be tailored to the conditions of the individual breed and consider all aspects relevant in the breeding goal for that breed, i.e., physical and mental health, working traits as well as population structure and genetic variation. The documents contain the history of the breeds, a description of the present situation, and goals and strategies for the future. The idea is that the document should constitute an overall plan for the breed and act as a guideline to breeders.
PEVISA is Finnish and short for "perinnöllisten vikojen ja sairauksien vastustamisohjelma", which translates as "programme against hereditary defects and diseases". Aimed at breeders and breed associations, it includes breeding dog health requirements for breed-specific registration conditions. Also use of inbreeding and popular sires can be limited with the program. The PEVISA regulations vary from breed to breed, and are usually updated every five years for each breed.
Among other things, these programmes aim to ensure that hereditary diseases commonly occurring in a breed are taken under control and that their spread is prevented. Breed associations apply for a PEVISA programme to be authorised for their breed and they are responsible for monitoring the programme's impact. Breed associations and their subordinate clubs are similarly responsible for steering the breeding in their respective breeds as well as for their breed's JTO/RAS.
Health Screening Tests for Finnish Spitz
Maintaining the good health of the breed is the most important breeding goal. Individuals [dogs] transmitting hereditary problems should be culled from breeding without reducing the gene pool too much.
Health Tests/Screening: Finland, Sweden & Norway
Veterinary patella examination – Finland mandatory (PEVISA) and Norway recommended for Finnish Spitz breeding dogs in order to get their offspring registered or approved by the breed club. In Norway the diagnosis has to be 0 (normal); in Finland the grade I (almost normal) is allowed. If one parent has a grade I luxation, the other one should have grade 0 (normal patellas). Sweden recommends patella examination be done.
Notes: Patella luxation: Susceptibility increases with a build, in which the long bones of the hind leg are convoluted respective to each other, the trochlear groove is shallow and the entire knee angle is too open. The structure of the hind leg is a hereditary trait, which can be influenced through breeding.
Prevalence notes: Of the dogs registered in Finland during 2010 – 2019, 26 % have been examined. Of these, 92 % were normal, 5 % had 1-degree and 2 % 2-degree luxation, when the scale is 0-4 (See Figures below). In Sweden during the same period, the proportion of normal patellas has been somewhat higher, varying between 95 % and 100 %. The examination protocol differs slightly: in Sweden, the scale used is 0-3.
In the light of the patella luxation statistics the situation in Finland is good, and in Sweden even better. However, the proportions of examined dogs are quite small. In addition, the Finnish breed club has been informed of cases in which a young dog has been euthanized or has had to undergo surgery before the age of examination (12 months) because of strong symptoms. The breed club is gathering info on dogs which have been treated because of knee problems.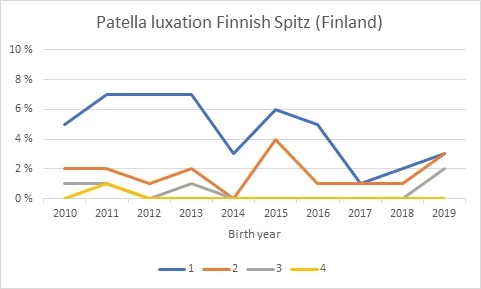 Veterinary eye examination – Finland mandatory (PEVISA) and Norway recommended for Finnish Spitz dogs in order to get their offspring registered or approved by the breed club. Finland: Hereditary cataract, PRA, or PHTVL/PHPV (grades 2-6) not allowed. If one parent has grade 1 PHTVL/PHPV, the other one should be free of PHTVL/PHPV. Eye examinations of the Finnish Spitz dogs are not yet common in Sweden.
Prevalence notes: Eye diseases
The most common eye diseases in the breed are different cataracts as well as PHTVL/PHPV. During the 2010s, cataracts have been found in approximately 5% and PHTVL/PHPV (grades 2-6) in approximately 2.5 % of the dogs examined in Finland. The yearly proportion of examined dogs varies between 25-35 % of all registered dogs. In Norway, out of 13 individuals examined during 2020, 5 dogs were diagnosed with hereditary cataract.
Strategies for Other Conditions
All Nordic breed clubs are gathering info on tooth problems in individual dogs. The recommendation is to use dogs with only mild teeth problems for breeding and to mate them with a partner, which has a full set of teeth.
Prevalence notes: 14,8 % of the dogs had one or several missing teeth (2019 health survey of the Finnish Kennel Club). Most commonly, 1-3 premolars (P2 and P3) were missing, but several missing teeth were also reported, including molars.
Breed clubs in Finland, Sweden and Norway collaborate in reporting epilepsy cases and by this, contributing to the estimation of so called epilepsy index for the dogs in the breed. The index is based on the information of epileptic relatives in each dog's pedigree. In Finland, epileptic dogs are recorded in an open database where epi-indexes are included in the pedigrees, together with notations explaining which relatives account for the index.
Epi-index is calculated from a five-generation pedigree, taking into account the genetic relationships between the dog and its epileptic ancestors. The index has been an effective tool in breeding: strong improvement can be seen starting from the year 2001, when the breeding advisors of the association started to use the indexes.
Prevalence notes: Finland – the frequency of epilepsy has fallen down from the early 2000s' 5-6 %. Currently, the breed club doesn't publish the numbers anymore, but keeps a close eye on the situation. Sweden – the last two cases so far were reported in 2016. Data for 2006-2011 and 2011-2016 show that compared to all breeds, Finnish Spitz has a smaller risk for epilepsy.
The management to reduce the incidence of epilepsy in Finnish Spitz is quite well done for a breed which formerly used to be one of the typical epileptic breeds!
About epilepsy seizures in Finnish Spitz: On average, epileptic Finnish Spitz dogs suffer their first seizures at the age of three, get on average three seizures per year and the typical length of a seizure is 12 minutes. Partial seizures, which are commonly associated with behavioural changes and autonomous symptoms like vomiting and drooling, are typical for the breed. More frequent occurrence of seizures can indicate progression of epilepsy, although the course of epilepsy is usually benign.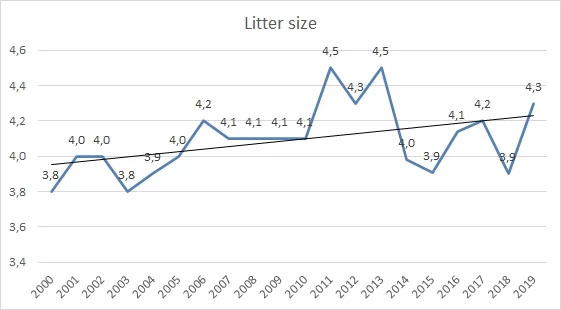 See more on Reproduction matters under the Genetic Diversity Section below.
In the Finnish Kennel Club breeding database the average life span (of the dogs which have been reported as dead during 2011-2021) of the Finnish Spitz is 11 years 3 months. Dogs, whose cause of death was reported to be an old age, had an average lifespan of 13 years and 6 months (see the table below). Typical for a hunting dog is that quite many (99) dogs died in an accident. These accidents include the disappearance of the dog, as well as hitting by a car or other vehicle, as can be seen from the Agria data below.
DNA Tests for Finnish Spitz
At this time there are no relevant Genetic Disease/Disorder DNA Tests for the Finnish Spitz. A few 'Trait' and Parentage tests may be relevant.
Genetic Diversity in the Finnish Spitz
To widen the gene pool, the cross-border Russian population that is, according to local estimates, growing strongly, was added to the Finnish Spitz population in 2006.
According to the research by Kumpulainen et al. (2017), the genetic diversity of the Finnish Spitz is still low: "We found that the Finnish Spitz has undergone repeated male bottlenecks resulting in dramatic loss of genetic diversity, reflected by 20 effective founders (fa) and mean heterozygosity (Hz) of 0.313. The realized effective population size in the breed based on pedigree analysis () is 168, whereas the genetic effective population size (Neg) computed the decay of linkage disequilibrium (r2) is only 57 individuals."
The ratio of sires and dams has increased during the 2000th century both in Finland and Sweden. It is slowly approaching the (usually theoretical) optimal situation where the numbers of breeding males and females are equal. Positive trend indicates better utilization of male dogs and reduced risks of "matador breeding". Having a ratio as equal as possible is one of the best ways to maintain genetic diversity in a closed gene pool.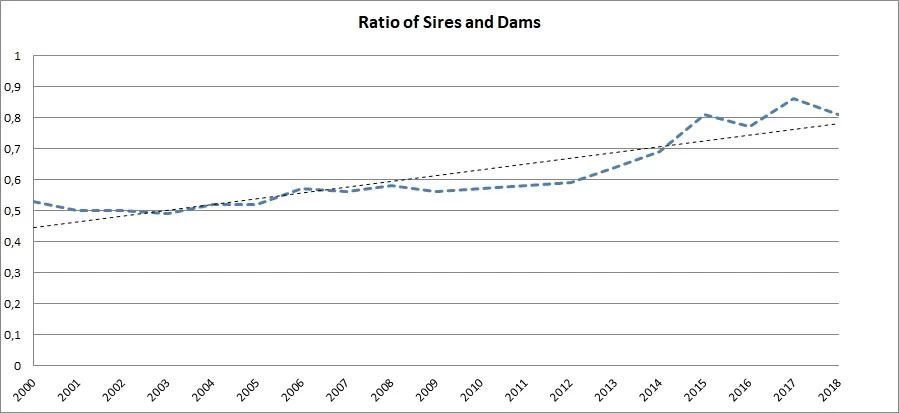 Inbreeding affects reproduction as was mentioned earlier. Both in Finland and Sweden the average (short term) inbreeding coefficient is decreasing, and at the same time the average litter size is growing. Increasing genetic diversity will likely have positive effects to all reproduction traits of the breed.
Sweden: (Inavelsgrad = inbreeding coefficient; kullstorlek = litter size; Antal valpar/procent = Number of puppies/percent; genomsnitt = on average; Linjär = trend)
Genetic Diversity Notes: The Nordic breed clubs have worked effectively for years to widen the gene pool of the breed. They have introduced maximum limits for the numbers of offspring per individual dogs as well as for the inbreeding coefficient of the litters. They have also encouraged owners to use their dogs for breeding and thus to increase the number of breeding dogs in the breed.
From the beginning of 2009, at most 70 offspring could be registered in Finland for an individual dog in this breed. The number of registrable offspring was lowered to 50 as of the beginning of 2016. In Sweden, the maximum recommended number of offspring is set at maximum 20% (preferably not more than 10%) of the number of all registered Finnish Spitz puppies per year, and in Norway, 5% of the number of registered Finnish Spitz puppies per 5 years. This is to avoid popular sires and their shrinking effect to the gene pool.
A maximum limit is set also to the inbreeding coefficient of litters. In Finland and Sweden, the limit is 6.25% (calculated from 7 generations in Finland and 5 generations in Sweden) and in Norway 4%. In Finland litters with higher inbreeding coefficient will not be registered at all (PEVISA). In Sweden and Norway the limit is a recommendation.
The Swedish breed club has a system for broadening the gene pool by introducing more male dogs in breeding. They have a list of males which meet the requirements regarding health, hunting traits and exterior. To allow for more diverse use of males in breeding, they have an additional list with the same requirements, except for hunting and show merit. These dogs may be used for 1-2 matings. After 1-2 litters they should have at least a 2nd prize on hunting trials, to be able to sire more litters.
Examples of additional recommendations
Dogs that suffer from a clear sound phobia or are vicious must not be used for breeding.
Neither diabetic nor dogs that produce diabetic offspring should be used for breeding. Nor should two such lines be combined, both of which are known to have diabetic dogs.
Dogs aged under four years are recommended to have at most two litters, and dogs under two years are not yet recommended for breeding. Also bitches are recommended to reach an age of two years before the first litter (Finnish breed club).
Dogs that suffer from a clear sound phobia or are vicious must not be used for breeding.

Neither diabetic nor dogs that produce diabetic offspring should be used for breeding. Nor should two such lines be combined, both of which are known to have diabetic dogs.

Dogs aged under four years are recommended to have at most two litters, and dogs under two years are not yet recommended for breeding. Also bitches are recommended to reach an age of two years before the first litter (Finnish breed club).